Ringling Bros & Barnum Bailey Circus coming to Houston - Thursday July 12 - Sunday July 29, 2012 at Reliant Stadium.
Great idea!  If several people submit a letter to the editor there is a greater chance that one will be printed.  A published letter can inform many thousands of our fellow Houstonians about the animal abuse & neglect at Ringling Bros. and Barnum & Bailey Circus.
 So please put your writing talents to work for our enslaved friends forced to live under Ringling's tyranny!
To write letters to the editor of the Houston Chronicle, the guidelines are as follows:
Send letters to the editor, 250 words or less, as part of e-mail text to 
viewpoints@chron.com
. Include name, address, and day and evening phone numbers for verification purposes only. Letters subject to editing. 
(They declined to publish this letter sent in by one of our activists, so we clearly need to send them lots on the topic) 
[Sample Letter]
Dear Editor
I would like to inform your readers considering attending the coming circus of why they should not attend. The use of live animals for entertainment is more than unfashionable—it is immoral by any standards. Ringling Brothers and Barnum & Bailey Circus is among the very worst documented abusers of elephants in business. For the well-being of both the animals and your readers, I ask them to consider alternative entertainment.
As a result of brutality against and neglect of animals, a 270 thousand dollar fine was recently administered to Ringling by the USDA for violating the Animal Welfare Act. The industry practice of beating elephants with bullhooks is routine and barbaric. The animals on show have been coerced with repetitive violence. Instead of roaming freely with their families, these animals are kept chained and on trains most of their lives. The over 100 million dollars in revenue the elephants bring to Feld Entertainment mean we will have to vote with our feet to stop it.

Ringling has also been found to have failed to test and treat tuberculosis in their captive animals. This means any contact with them may be a fatal health risk to adults and children attending.

Several US states and many nations have banned animal circuses outright or banned practices of abuse that Ringling and other circuses use daily, including bullhooks and chains. Concerts, parks, sporting events, children's museums, and human circuses are cruelty-free alternatives available. Skip the circus for another pastime. The kids will thank you now and as adults, as I have mine.

Sincerely,
(name, address & phone - for verification purposes only - will not be published)
---
Fur Free Friday
Thursday, 11-24-11 (Morning - Time TBA)
Leafletting at Houston's annual ThanksTaking Day Parade (Downtown) Please let me know if you can come out to help enlighten your fellow Houstonians.
*************************************************** Thursday, 11-24-11 (Evening - Time TBA) Leafletting at Uptown Lighting (Galleria Area on Post Oak Blvd between San Felipe & Westheimer) ***************************************************
Friday, 11-25-11 (Noon - 3 p.m.) FUR FREE FRIDAY is on November 25th Neiman Marcus - Galleria2600 Post Oak Blvd. (Between Westheimer & W. Alabama)
Demo at Neiman Carcass - Galleria with Houston Animal Rights Team & In Solidarity With Animals (and other Houston activists)
---
Japan Dolphins Day in Houston
Location: Consulate-General of Japan at Houston, 909 Fannin Street, Suite
3000 Houston, TX 77010
Time: 12:00pm - 4:00pm
Date: September 1, 2011
Organizer: Cheryl Gordon
Contact:
cherylcartergordon@sbcglobal.net
Facebook page for the event
September 1, 2011 is the start of the Taiji Dolphin Hunt. During the 2010-2011 drive hunt, the Taiji Fisheries Union killed 850 dolphins. An additional 171 were sold into captivity.
We are rallying together at the General Consulate of Japan. Our message is simple: JAPAN, LET THE DOLPHINS LIVE & BE FREE!!!
This will be a peaceful protest. Please bring signs (but not on stakes).
PLEASE ONLY RSVP IF YOU CAN ACTUALLY BE THERE IN-PERSON ON SEPTEMBER 1, 2011.
This event is being coordinated with the International Day of Awareness for the Dolphins of Taiji Event
https://www.facebook.com/event.php?eid=196605907054900
created by Save Misty the Dolphin
https://www.facebook.com/Savemistythedolphin
and "Celebrate Japan Dolphin Day" of Save Japan Dolphins.
If you have any questions regarding the event, please post a message on the Event Wall for Event Coordinator Cheryl Gordon ~ Thank YOU!
www.countdowntocove.com
savejapandolphins.org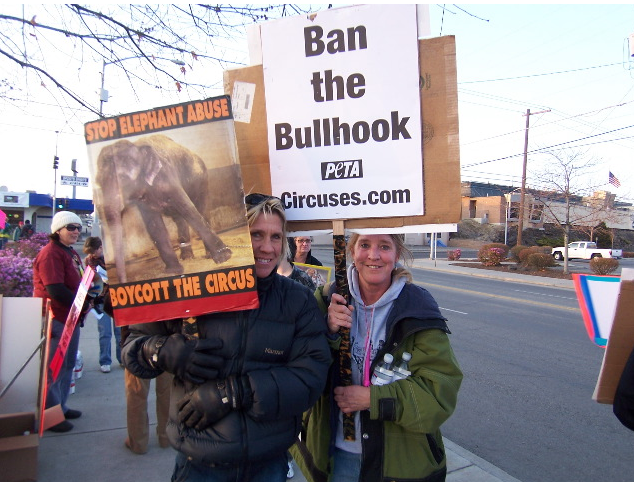 PETA's coming to town to oppose circus cruelty, and everyone's invited!
We received the following communique from PETA
:
Ringling Bros. circus is coming to town, and I'm writing to invite you to what we hope will be the 
biggest anti-circus protest in Houston's history
!
Your presence will make a world of difference to 
frightened baby elephants
 who are cruelly bound with ropes and wrestled into confusing and physically difficult positions in order to learn circus "tricks." As they scream, cry, and struggle, they are stretched out, slammed to the ground, struck with bullhooks, and shocked with electric prods. Ringling is also planning to force crippled elephants to perform in Houston, despite 
veterinary recommendations
 to the contrary.
Here are the protest details:
What:
 Demonstrations against Ringling cruelty
When:
 Thursday, July 7, 11:45 a.m.-1 p.m. and 6:30-7:30 p.m.
Where:
 Reliant Stadium, 2 Reliant Park, Houston (Please meet at the intersection of Kirby and Murworth drives; see this 
map
).

For any questions or to RSVP via e-mail, contact me at RebeccaWeingart@peta.org or 323-326-6159. 


---
Houston And Fort Worth, Texas
International Day of Action for Elephants in Zoos
June 11 – Houston Zoo and Fort Worth Zoo
Help send a message to the world that it's time to end the suffering of elephants in zoos. Join In Defense of Animals and elephant advocates around the globe for the International Day of Action for Elephants in Zoos (IDAEZ), a global day of outreach and action aimed at bringing attention to the tragic effects of keeping elephants in small, barren zoo pens where they suffer and die prematurely.
What: Outreach and demonstration
When and where: Saturday, June 11, 2011
Houston Zoo: 6200 Hermann Park Drive, Houston, 8:45 a.m. -11:15 a.m.
Fort Worth Zoo, 1989 Colonial Parkway, Fort Worth, 11 a.m. – 12:30 p.m.
Signs and flyers will be provided.
Contact for Houston demo: Alma Williams, 832-380-4278, houstonanimalrights@yahoo.com
Contact for Fort Worth demo: Savanna Batten, Animal Connection of Texas (A.C.T.), savannaloki@yahoo.com
Contact for IDA's IDAEZ campaign: Catherine Doyle, Catherine@idausa.org
Why: Elephants were never meant to live in small urban zoos where lack of space and unnatural conditions lead to painful and often deadly conditions such as chronic foot infection and arthritis, and abnormal repetitive
rocking, swaying and head bobbing, a sign of deep psychological distress.
At the Fort Worth Zoo, the female elephants live in an outdated, barren display, and the male elephants can be seen neurotically swaying and rocking in their tiny pens. This zoo made IDA's 2008 list of the Ten Worst Zoos for Elephants by providing the perfect example of how miserable life can be for male elephants in zoos. This zoo also continues to use outdated, circus-style training that relies on the bullhook – a steel rod resembling a fireplace poker – to control the elephants through pain and the threat of physical punishment.
The Houston Zoo has a terrible history with elephants, including a failed breeding program. Of 16 elephants born at the zoo, only two are alive today. The zoo is also a hot spot for the lethal elephant herpes virus, which has killed 6 out of 10 live-born elephants; its last victim was the calf
Mac. The disease mainly strikes young Asian elephants, and despite the extremely high risk (mortality rate is about 85%) that another calf will sicken and die at the Houston Zoo, it continues to breed elephants. (Research on the disease does not require the births of more calves.) This zoo also continues to use outdated, circus-style training that relies on the bullhook – a steel rod resembling a fireplace poker – to control the elephants through pain and the threat of physical punishment. The Houston Zoo has made IDA's list of the Ten Worst Zoos For Elephants three times, including for the exploitation of the elephants during holiday photo ops that send the wrong message about respect for these highly endangered animals.
It's time to end the cruel practice of confining elephants in zoos. You can help by participating in this very special event. United we can end the suffering of elephants in zoos!
For more information on IDAEZ, please visit http://www.helpelephants.com/idaez.html
RODEO PARADE LEAFLETING
26 February 2011 / 9 am (1 hour before the parade starts). downtown Houston

Call for details- 832 380-HART (4278) we will meet and hand out leaflets near the start of the parade route






RODEO PARADE PROTEST/LEAFLETING
weekends 1 March 2011-20 March 2011
Come out to protest animal cruelty
Will be held most weekends (weather permitting)
meet at the corner of Kirby and I-610
Saturdays noon-6pm & Sundays noon-4/5pm
Please contact organizer for details:
Casey caseyconstable@yahoo.com
713-732-0034 - leave messages
Signs will be provided, or you may bring your own.









LEAFLETING AT THE THANKSGIVING DAY PARADE
Thursday, November 25th 2010, 8 AM
Location:downtown Houston - (Walker and Main Street)
Join the Houston Animal Rights Team in handing out literature 
with a compassionate message to GO VEGAN
and cease needless cruelty inflicted on animals for food. 
Everyone is welcome. To get involved, call us at 832-380-4278
or show up at 8 AM (an hour before parade starts, 
to reach the gathering audience) at the intersection of 
Walker and Main Street, (Look for HART tee-shirt) 
in downtown Houston. 
| | |
| --- | --- |
| | Dozens of Fur-Free Friday events are already being held around the world. Join animal advocates and urge shoppers to ditch fur—register your event now!SPEAK UP. |
Houston


Location: Neiman Marcus, Galleria Mall, 2600 Post Oak Blvd. (corner of Westheimer Rd. and Post Oak Blvd.)
Time: 2:00 p.m. 
Contact: Deana Bowman
Phone #: 713-221-2516
E-mail: DBOWMAN@SDABLAW.COM


FUR-FREE FRIDAY 2010
It's time to get into the fur-free spirit! November 26 (the day after Thanksgiving) is Fur-Free Friday—the day on which animal lovers all around the world will educate holiday shoppers about the cruel fur industry. Every year, the fur industry heartlessly kills 50 million animals—many of whom are skinned alive. This holiday season, we encourage you to take a stand against designers likeDonna Karan, who promised to drop fur but is now back to butchering bunnies for her clothing line.
Join HART in Protesting Dolphin Slaughter at Japanese Consulate
Join the Houston Animal Rights Team (HART) in an International Day of Protest Against Dolphin Slaughter in front of the Japanese Consulate located at 2 Houston Center Building, 909 Fannin Street, Suite 3000, Houston, TX 77010 Thursday OCT 14 from noon to 2PM. Demonstrations will be going on throughout the world in front of Japanese embassies and consulates on October 14th. Please join your fellow environmentalists and animal activists in protesting the hunts, 
as depicted in the Academy Award winning documentary THE COVE 
. and urging Japan to switch to more sustainable and benign methods of profit, such as eco-tourism and dolphin-watching cruises (ironically becoming more popular in Japan every year).




Funeral for the Gulf We mourned the dead animals and rig workers in the company of 30 people.. not terrible for a weekday afternoon event downtown.




Houston Animal Rights Team is co-sponsoring the Funeral for the Gulf! See you there!


more information: orcoo.org
click here to view many of our past events